14 of the Best Book Apps for Kids
Keeping our children away from their phones and encouraging them to bury themselves in the pages of a book seems to be one of the biggest challenges we face as parents.
While it's easy to understand why smartphones and mobile devices, in general, have such an impact on their lives even from early years, considering how every single app and social platform is specially designed to keep us engaged for as long as possible, the issue still remains, and it's a worrying one.
Our kids read too little and spend too much time looking at their screens. But instead of fighting this phenomenon, why not embrace it?
Let's find out together what the best reading apps for kids are and how the best book apps for kids can help get them to read more.
What are reading apps for kids?
A book reading app for kids is defined as an app that can be installed on smartphones or tablets, which encourages your child to read, provides them with age appropriate reading material and attempts to combine the pleasure of using a mobile device with the benefits of reading.
Why is it recommended for kids to use a reading app?
As parents, we might have the instinct to dismiss the concept of reading apps at first thinking that the last thing we need is another reason for our child to spend more time looking at a smartphone's screen.
But, as recent statistics have shown us in the past couple of years, we seem to be fighting a losing battle. Despite our best efforts, the average screen time for teens and children keeps increasing year after year.
So instead of fighting them, why not try to make the best of the situation we are in?
Reading app benefits for children
Let's try to forget about the downsides of mobile use in our children and have a look at some of the benefits of reading apps for children.
Your kid will likely read more: good reading apps for kids provide children with age appropriate reading material that is easy and fun to go through
Your kid will have access to extensive libraries: book reading apps for kids hold thousands of titles in their collection, allowing your child to select the ones they are most attracted to
Game-based learning: kids will have access to an educational tool that wraps learning and reading in an attractive experience very similar to actual gaming
Interactive experience: children using reading apps will be able to practice their reading skills and extend their vocabulary through interactive exercises and educational mini-games
That being said, as you can see, reading apps for children don't sound like such a bad idea, do they?
Mixing business with pleasure
Recent statistics I even quoted above show that children spend between 1-2 hours in early years using their phones up to even 9 hours per day in pre-teens and teens.
While that sounds worrying (and it really is), imagine what children can achieve if they spent at least a portion of that time reading on their phones instead of watching Youtube videos or scrolling social media posts.
With average reading speeds close to 200 words per minute (for children in grades 7-8), one hour of reading per day would mean your kid would read 12,000 words every single day. That's the equivalent of 40 pages per day if we relate to paperback books.
The best reading apps for kids
Now, if your mind's made up and you want to give them a chance, let's see some of the best options out there when it comes to the best educational reading apps for kids so you can make an informed decision.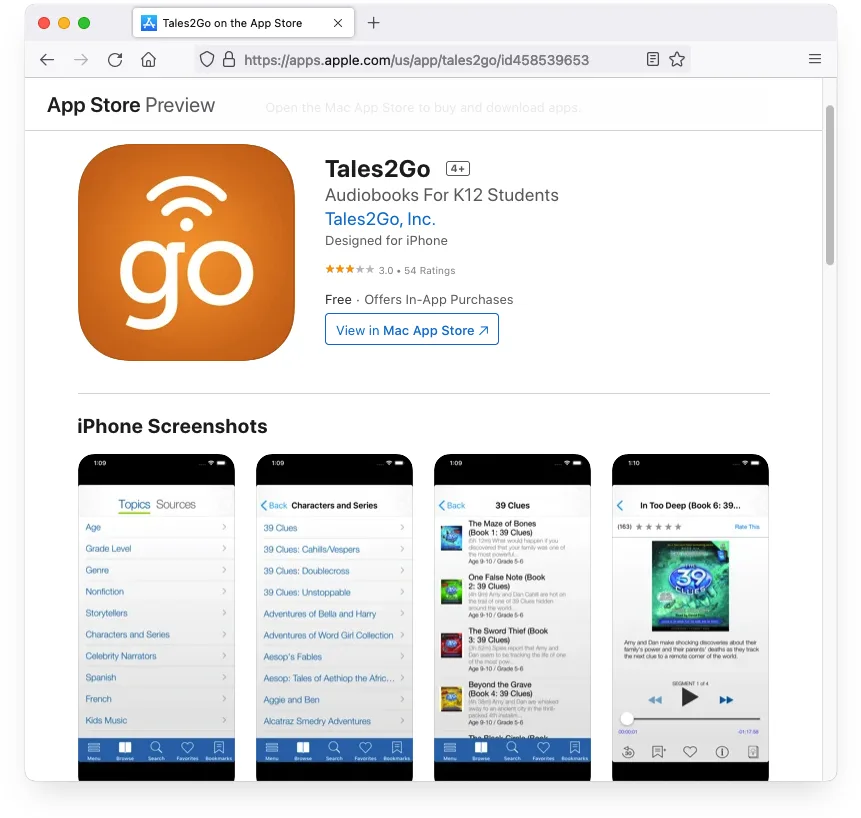 Optimized for children between kindergarten and the 12th grade, this app takes a different approach to reading, holding over 10,000 audiobooks in its library. Even though kids don't actually read using the app, the audiobooks will spark an interest in stories, novels, getting them closer to developing healthy reading habits.
Publication:      Basmo
Publish Date:   3.7.2022